Google Cloud Platform (GCP) is a cloud computing platform that allows businesses and organizations to build and run applications on the same system that Google has been using for their products, such as Google Search, Google Maps. , Google Workspace, Chrome, Youtube, etc.
As a Google Cloud Partner, we are committed to meeting all customer requirements, including system design or Cloud solutions using the most advanced technologies.  Please get in touch with us immediately for advice on the Google Cloud Platform.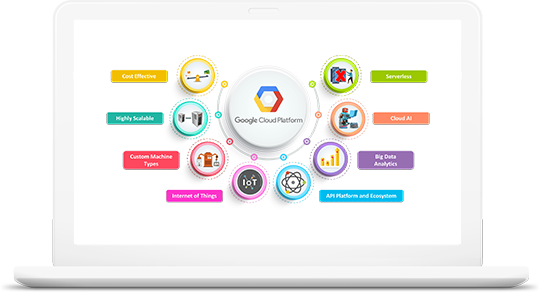 Why choose Google Cloud Platform

cost
Save cost for hardware, software, IT human resources to set up and operate the hardware system. With the Committed Use Discounts mechanism, Google will give customers a discount of up to 57% when they commit to using GCP services within 1-3 years, applicable to all servers.

High performance
Fast data processing on the Google Cloud platform helps increase business productivity. The global data center network is secure and continuously improved, helping speed up applications and bring cost advantages to businesses.

RELIABILITY
Google's infrastructure is distributed around the world, so the system is always smooth. Backing up data after a disaster is also very easy, thereby helping businesses operate continuously while saving investment capital.

security
Google provides a range of policies, technologies, and controls that help businesses strengthen the security of their systems. At the same time, Google's continuous auto-update feature keeps the system secure at all times.
Why choose Gimasys
to deploy Google Cloud Platform

As a strategic partner of Google in Vietnam with 10+ years of consulting and implementation experience.

Be the first partner to build a customer support system using Google standards services.

30+ Google certificates in areas ranging from consulting, implementing, and supporting Google's service solutions.

The success of customers is the success of Gimasys; we're bringing the most suitable technology solutions for businesses.